For many children, their bedroom is much more than a place to sleep. A kid's bedroom is their indoor playground, their library, their toy store and much more all rolled into one. Most parents design a newborn's nursery to look and feel the way they want, but as children grow up they can start to have their own specific ideas of what constitutes a great bedroom design. Whether your cowboy or princess wants zebra stripped blankets or dinosaur wallpaper, there are a few kid's bedroom essentials that you can't miss.
Toy chests
You can never really have enough storage in a child's room. All those toys and books need to go somewhere at the end of the day! Storage chests or benches are a great place to store extra stuffed animals, board games, crafts supplies and more. Since storage benches and toy chests sit on the floor, it's easier for your child to help clean up since they don't have to reach a tall shelf to put their things away.
Trundle beds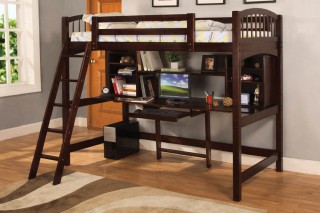 Trundle beds are great in kid's bedrooms for a couple of reasons. First, trundle beds are perfect for sleepovers with friends and family. Some trundle bed designs even come with a few extra drawers, giving your kid's room even more storage space. Trundle beds also make great day beds, so if you don't have a lot of space to work with it can function as double duty furniture.
Bookcases
Of course bookcases are the perfect place to store all of your child's favorite books, but they can also be used to display school projects, birthday cards, family photos and other fun knickknacks. Shorter bookcases keep everything at child eye level, while taller bookcases are a good way to keep some items out of reach if needed.
Table and chair set
A table and chair set is a great way to keep crafts projects and coloring books off the kitchen table. A table and chair set, built specifically for a kid's bedroom, is the perfect place for kids to draw and color, do homework, play board games, have a tea party and much more. You can opt for plastic or real wood sets and even get the table and chairs in fun kid-approved colors or designs.
Keep in mind that your child's tastes may change overnight. Today they love astronauts and insist on space wallpaper; tomorrow they want to sleep in a racecar. But if you choose kids' bedroom furniture that works with any design choice your child may happen upon, there is nothing that a fresh coat of paint and a few new posters can't do!